INGREDIENTS
1 cup butter
1 cup sugar
2 tsp. vanilla
1 to 2 Tbsp. Lyle's Golden Syrup*
2 cups flour
1 tsp. baking soda
DIRECTIONS
Cream butter & sugar, beat in vanilla & syrup. Combine flour with soda - stir into butter mixture. (Dough will be very soft.) Divide into 6 parts.
On a lightly-floured board, roll, with hands, into rolls the length of cookie sheets, or roll into shorter rolls & finish rolling on greased cookie sheet. (Easiest to roll at room temperature.)
Bake at 350 for 10-12 minutes, until flat and golden brown. Let cool for 2 or3 minutes, then slice on diagonal while still warm. Makes 5-6 dozen cookies.
*Lyle's Golden Syrup is usually found in the syrup section, in a small
jar with a green label. Most likely found in Scandinavian specialty shops.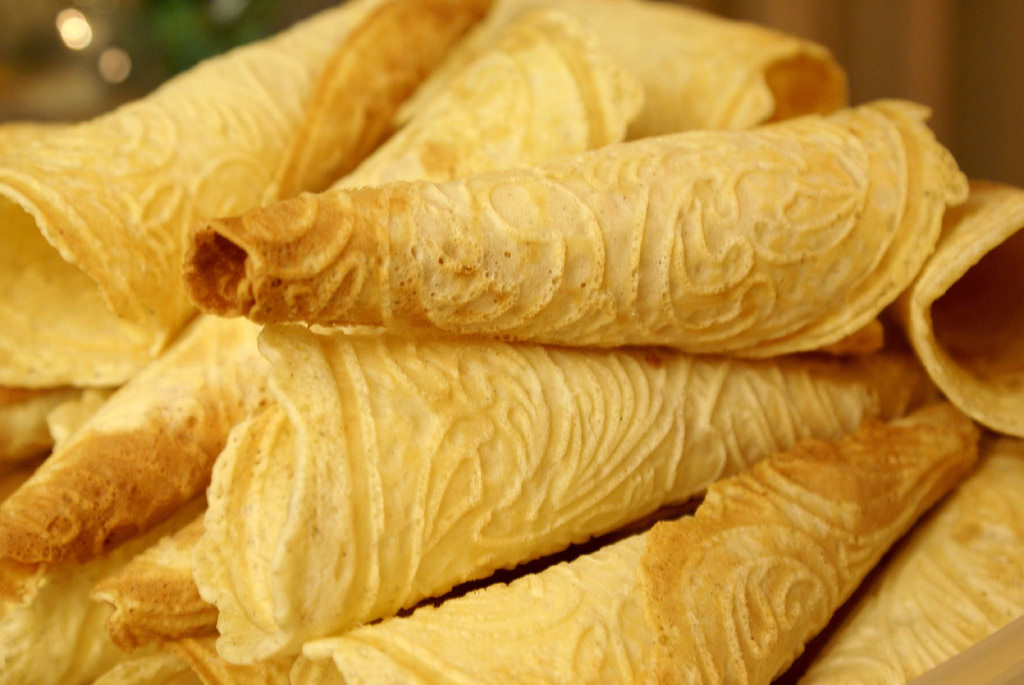 INGREDIENTS
4 eggs
1 cup sugar
3⁄4 cup melted & cooled butter

2 tsp. almond extract (or 1 tsp. cardamom)
11⁄2 cup flour
DIRECTIONS
Beat eggs with sugar & melted-cooled butter until mixture is light. Add extract or cardamom - then stir in flour. Preheat krumkake iron until a drop of water sizzles on it. If iron has not been used & seasoned, brush inside top & bottom with melted butter or oil. Spoon 1 tablespoon (adjust amount to size of iron) of batter onto center of hot iron & cook until golden brown about 30 to 50 seconds.
Remove from iron and roll immediately onto a cylinder or cone mold. Remove mold when cooled & repeat with remaining batter.
Batter may thicken during use; add a small amount of water to thin as needed. (If using a stovetop iron, it will need to be turned over halfway through the cooking time.)
INGREDIENTS
1 lb. butter
11⁄2 cup sugar
2 eggs plus 1 egg yolk
5 cups flour
1 heaping tsp. cardamom (or 1 tsp. almond extract)
DIRECTIONS
Cream butter & sugar together. Beat eggs into creamed mixture, add flour and cardamom.
Refrigerate 2 hours or overnight. Press evenly into forms, bake at 375 for 12 to 13 minutes.
When cool enough to handle, tap on hand to release from pan. Store in airtight containers. Brush crumbs from pans, do not wash.
375° for 12-13 minutes
DIRECTIONS
Cream together butter & sugar until very light. Mix in egg, cream, flavorings, & salt. Add flour to make a smooth dough.
Chill overnight. Use cookie press to form long ropes; cut into 5" lengths and join ends smoothly into rings. Decorate with small bits of red and green cherries. Bake at 350 between 12 and 15 minutes until just barely golden.
INGREDENTS
3 cubes butter (3⁄4 lb.)
1 cup sugar
1 egg
1 tbsp. light cream
Red and green candied cherries for decoration
1⁄2 tsp. vanilla
1⁄2 tsp. almond extract pinch of salt
31⁄2 cups flour
INGREDIENTS
21⁄2 cups flour
1 cup butter
2 hard-cooked egg yolks
2 raw egg yolks
3⁄4 cup sugar
1⁄2 tsp. almond or vanilla extract
Glaze: 1 egg white, slightly beaten with pearl sugar
DIRECTIONS
Cut the butter into the flour in a mixing bowl or work bowl of food processor.
Sieve (or mash very finely) the cooked egg yolks. Combine with raw egg yolk, sugar, & extract, then blend thoroughly with flour & butter mixture in bowl or processor until a stiff dough forms.
Gather into a roll & chill for several hours or overnight. Use a cookie press to form 1/2 inch ropes (or roll on lightly floured board with hands) and cut into 5-inch segments. Form into wreaths with slightly overlapped ends on parchment-covered baking sheets.
Brush with egg whites, making sure to cover all exposed parts, & sprinkle with pearl sugar. Or chill again and dip into slightly diluted egg white, then sprinkle with (or dip tops into) pearl sugar.
Bake at 350 F for 10 to 12 minutes until very lightly browned.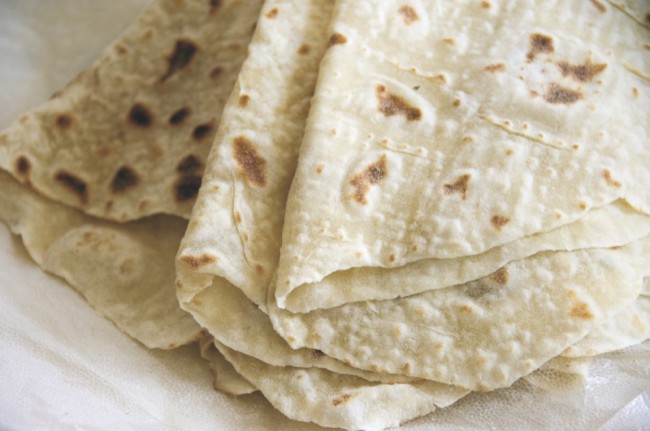 DIIRECTIONS
Different potatoes contain different moistures – by using instant potatoes in this recipe, the lefse is always good.
Boil 31⁄2 cups of water with one cut-up cube of butter & 1 tsp. salt.
When the mixture comes to a boil, add 1⁄2 cup evaporated milk.
As it returns to boiling, add 11⁄4 cup of instant mashed potatoes (Simplot brand Tru-Recipe Instant Mashed Potatoes – can be purchased at Cash & Carry in #10 cans).
Remove from stove immediately & stir until blended. Cool/refrigerate for a day.
Just before rolling, add 1 cup flour. Dust the canvas lefse cloth with flour. Roll as thin as possible with a covered grooved lefse rolling pin. Using lefse stick, transfer over to the lefse grill/griddle. Bake 1-2 minutes until bubbles appear.
INGREDIENTS
1 cube of butter
31/2 cups water
1 tsp. salt
1/2 cup evaporated milk
1 1/4 instant mashed potatoes
1 cup flour